1xBet analyzes the most important matches of the EPL 20th round.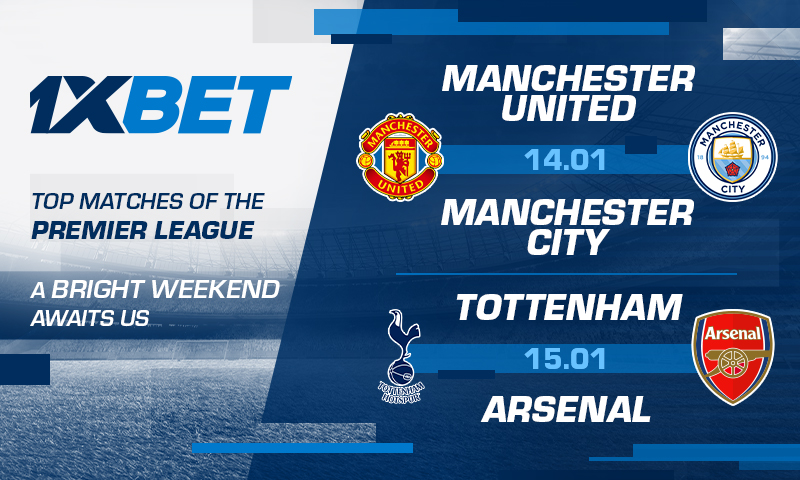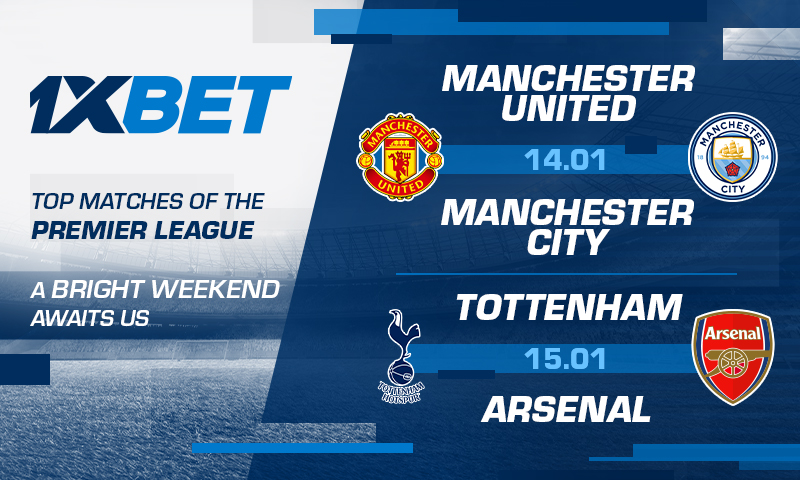 Manchester United – Manchester City, January 14
After the Red Devils signed Cristiano Ronaldo for the second time, it was quite possible to film a
sequel to "The Damned United" – the club finished the 2021/2022 season in sixth place and was
forced to heroically fight for victory in the Europa League. The autumn results of the team were also
not impressive, and Cristiano's relationship with the club more and more resembled the quarrels of an
elderly couple. Agent 007; complained that manager Erik ten Haag did not show him respect, the
fans were tired of the main star's whims, and the club's management wiped away tears, counting the
cost of keeping Ronaldo on the bench. In general, this union turned out to be short-lived and divorce
became its natural continuation. And then enlightenment descended on United: after the five-time
winner of the Golden Ball stopped appearing on the field, the team won 8 games in a row and
returned to the Champions League zone.
As for Manchester City, after the end of the autumn-winter holidays, the rivals of this club are
obsessed with only one question – how to stop Erling Haaland? The Norwegian scores almost in
every game and is by far the best center forward in the world – without any ; and ;maybe; (alas,
his goals don't always help the Citizens to win – as, for example, in a recent match against Everton).
And if you consider that Erling is supplied with passes by such masters as de Bruyne, Mahrez,
Gundogan, Grealish, and Foden (while each of them can score himself), and freshly awarded world
champion Julián Alvarez will almost certainly help him, it becomes clear what awaits us spectacular
match with unpredictable results.
You can bet on Manchester United vs Manchester City here:
Tottenham – Arsenal, January 15
The World Cup in Qatar not added positively to the Spurs leaders: Harry Kane did not score the
decisive penalty in the game with France, Son could not help South Korea get past the Brazilians, and
Hugo Lloris demonstrated to the whole world that it's better to call someone else during a penalty
shootout. Not enough? Remember that Richarlison has an injury, and this guy scored the most
spectacular goal of the World Cup. In general, only world champions Christian Romero and Ivan
Perisic, who won bronze medals with the Croatian national team, can rejoice. The results of the team
after the resumption of the Premier League are also not impressive: a draw with Brentford and a
defeat against Aston Villa are not quite the emotions that a contender for the Champions League
zone should give fans. Before the match vs Crystal Palace, the team misses the first 10 (!) matches in
a row (there should have been a fire truck smiley in this place), looks unbalanced, and has to fight
with the leader. However, the North London derby is not a game in which opponents strive not to
concede at any cost. Maybe it can help the Spurs: this season they are not good at opening up a
saturated defense.
Arsenal manager Mikel Arteta spent three years at Manchester City working as an assistant to Pep
Guardiola and for that reason, his understanding of football closely resembles that of the Man City
manager. However, he was only able to realize his ideas by filling his bruises. For the first two and a
half seasons, the Gunners; game under Arteta was not impressive, and their rare victories over the
leaders looked like the result of a random number generator. However, this season the team finally
had stability, and several players were bought from Manchester City (Gabriel Jesus, Alex Zinchenko),
who only had not to explain the principles of Guardiola-Arteta for a short time. Although there are no
superstars in Arsenal, the team has lost in the Premier League only once in half a year and
deservedly takes first place. Stopping this squad would be as easy as intercepting a projectile fired
from a cannon.
You can bet on Tottenham vs Arsenal here: